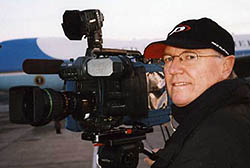 Richard James Bennett
Lighting Cameraman
(778) 889-7422 (Mobile)
(604) 985-0352 (Residence)
Award winning lighting cameraman. After traveling the world for 18 years based out of London, England doing documentary, newsmagazine, corporate and multi-camera series work Rick is now based out of Vancouver.

Director of Photography on a wide range of programs for U.S. and U.K. based broadcasters and production companies.

Extensive travel filming world events including; The Gulf War, the collapse of the Soviet Union, UN missions to Mogadishu and Darfur, conflicts in former Yugoslavia, Albania and Macedonia, the British handover of Hong Kong, the Pope's visits to Bosnia and Cuba and ABC TV's exclusive interview with Osama bin Laden in Afghanistan. Numerous documentary projects for ABC, National Geographic and the Discovery Channel.

DOP for single camera shoots and multi-camera events using Sony XDCam F800, CineAlta F900, Digital Betacam and DVcam. Expertise in location and studio lighting using a wide variety of fixtures, Chimeras, Kinoflo Divas, poly, silks, nets, and flags to give images depth and texture. Experienced with using various jib arm and dolly systems.
Selected projects:
Evolutions - The Bear - Yukon segments for this F-900 series for National Geographic Television
William and Kate - Royal Wedding - feature reports for Dianne Sawyer Royal Wedding special - ABC News, London
Art installation - corporate documentary - MGM Grand Macau
Beijing Olympics - BC Pavilion - interviews for High Def video inserts promoting BC
Charles and Camilla - Royal Wedding - Live event special for ABC, Windsor
Citizen Sam - documentary on Vancouver Mayor Sam Sullivan - NFB/National Film Board
Kyle XY, Reaper, Painkiller Jane - behind the scenes features for DVD release
Kids Eye View - took a kids eye view of Greece and history of The Olympic Games, PBS, Washington
Tonight with Trevor McDonald - multiple segments - DOP 2 cam - ITV, London
British Prime Minister Tony Blair - feature 3 camera interview - Bloomberg Television, London
Unrealtime - Ross Noble - live at The Garrick Theatre - DOP 6 camera/jib, BBC, London
Breaking Vegas - Madrid Spain - Atlas Media Corp for the History Channel
The Beckhams - DOP for feature interview - ABC Prime Time
The 100 Million Dollar Diamond Heist - 2 camera for ABC Prime Time
Star Wars - DOP F900 interviews for documentary for Lucas Films (George Lucas)
X-perimental - Children's science series - DOP 5 Digi Beta cam shoots, Initial Endemol for BBC2
Queen Mary II Ocean-liner Launch – with Mary Hart - DOP 3 cam remote, Entertainment Tonight
History of Ballroom Dancing in England – magazine feature - ABC Prime Time
Lauren Bacall - feature interview with Ted Koppel in London - ABC Nightline
Angelina Jolie - feature interview with Barbara Walters - ABC 20/20
The Cresta Run Documentary - History of sledding in San Moritz - San Moritz
Springtime Fireworks Festival - Valencia Spain - Discovery USA
Sport
NHL Hockey - CTV
Arsenal Soccer feature - London, Fuji TV
Spanish Grand Prix F-1 - Barcelona Spain, Fuji Television
Wentworth England Golf Club World Match Play - player profiles - TV Asahi
England vs Australia - Lord's Cricket Club London - SBS Australia
Music
Paul McCartney - concert video and promo interviews for European tour - Millennium Dome, London
U2's Bono - interview prior to G-8 Summit, Scotland
Mick Jagger and Keith Richards - Stripped - promo interviews, Virgin Records
The Cure - studio recording and interviews, Yahoo web-cast, London
The Payolas - studio recording, Global Television, Vancouver
Brian Adams/Sheryl Crow - Fashion Awards - Royal Albert Hall, London
Recent corporate experience
Bombardier - corporate video at a train production factory Derby England
Ritchie Brothers Auctioneers - Corporate video on 50th anniversary Auction - Kelowna
Virgin Records - Promotional interviews with Mick Jagger and Keith Richards for DVD
Hard Rock Café - 30th anniversary London England, APTN
Entertainment
Shakespeare in Love - EPK interviews with cast members and behind the scenes, Shepperton Studios
James Bond - Die Another Day - interview Pierce Brosnan and behind the scenes,Pinewood Studios
Queen Mary2 Launch Special - Mary Hart Entertainment Tonight, DOP of 3 camera multicam, London
The Muppet Christmas Movie - interview with Michael Cain and Kermit the Frog, Pinewood Studios
BAFTA / British Film Awards - red carpet arrivals and interviews three years running
Entertainment Tonight - London Bureau freelance cameraman for over 10 years. Projects included location and studio interviews with Catherine Zeta-Jones, Renee Zellweger, Judi Dench, Joseph Fienes, Gwyneth Paltrow, Richard Greer, Johnny Depp, Tom Cruise, Tom Hanks, Nicole Kidman, Angelina Jolie, Kate Hudson, Halle Berry and many others.
Awards
2005 Emmy - ABC World News Tonight with Peter Jennings - Hidden War; Genocide in Darfur
2004 Overseas Press Club of America - David Kaplan Award - ABC Nightline with Ted Koppel, Spotlight on Darfur
2002 Peabody Award - ABC News Special with Peter Jennings for coverage of September 11, 2001
1984 CanPro award - feature on Child Abuse for local CTV affiliate in Alberta