Behind the scenes @ the movies

Vancouver is one of the busiest film and television production centres in North America. The BC Film Commission logs over two billion dollars of dramatic production each year. This is great news for the people who shoot films here. It's also great news for people like us who visit their sets to shoot behind the scenes for EPK, DVD extras and 'making of....' projects.

We shoot on-set interviews and B-roll for electronic press kits (EPK's), for DVD extras and for documentaries for A&E Biography, Entertainment Tonight, Intimate Portraits, BBC Movie Connections etc.

We've been fortunate to film private interviews with some of the biggest names in showbiz including Angelina Jolie, Idris Elba, Johnny Depp, Richard Gere, Tom Hanks, Nicole Kidman, Barbara Walters, Quinten Terantino, Homer Simpson (Don Castellaneta), Kermet the Frog and Miss Piggy.

We also service this market by shooting video insert material to be used for playback within the film as news footage, computer displays and surveillance video.
| | |
| --- | --- |
| | For 'X-men 2', we were recruited as special skill extras to shoot and be part of the 'President's news conference' in the Oval Office scenes (thats me between Patrick Stewart and Halle Berry). We also shot the security camera video insert material which was displayed on the moniters in the control room of Stryker's base. |
Our experience in sport coverage proved valuable when we went ring-side and supplied a 5 camera mobile crew to feed the jumbotron for the boxing sequences in Eddie Murphy's 'I Spy'.

For Robert Redford's 'Spy Games', we worked with director Tony Scott to record the "Live from Hong Kong" news report (at the corner of Burrard and Pender).

Recent feature projects shot here which we have been able to play a supporting role include:

X-men 2 - Hugh Jackman, Halle Berry, Patrick Stewart - Bryan Singer dir.
I Spy - Eddie Murphy, Owen Wilson, Sugar Ray Leonard - Betty Thomas dir.
Spy Games - Robert Redford, Brad Pitt - Tony Scott dir.
White Chicks - Shawn, Marlon and Keenen Wayans dir.
I Robot - Will Smith.
The 6th Day - Arnold Schwarzenegger, Robert Duvall
Antitrust - Tim Robbins, Ryan Phillippe
Scary Movie 3 - Leslie Nielson, Charlie Sheen - David Zucker dir.
Elf - Will Ferrell, James Caan, Ed Asner

For the Canal Plus - 'Day in the Life of Jackie Chan' project we actually spent two days with Jackie and were with him both on and off set. It was amazing to see the volume of work that he could deliver in just 48 hours.

Television Production

The Outer Limits, The X-files, Millennium, Stargate SG-1, Smallville, The Highlander, Cold Squad, The L Word, the Chris Isaak Show and DaVinci's Inquest are just a few of the TV series which have been produced here. Gene Rodenberry's Andromeda is one of the most popular shows in syndication. We shot on-set promos with Kevin Sorbo, in both PAL and NTSC, for over 100 broadcast partners.

We've gone behind the scenes for ABC Publicity to do EPK coverage on the sets of Kyle XY, Reaper, 'V' , Samurai Girl, Red Widow, Imaginary Mary, Once Upon a Time, Somewhere Between, Beyond and The Good Doctor.

Recently we filmed with ABC Good Morning America correspondent Rachel Smith on the 'Bridge of the USS Enterprise' and met the cast of Star Trek Beyond.

We've also helped out on other high profile shows such as Steven Spielberg's Taken where we combined playing the role of an on screen TV news crew with shooting for the DVD.
For the BBC documentary 'The Making and Kingdom Hospital', in addition to our normal behind the scenes coverage, we were able to get an on-set interview with author Stephen King and film his suprise cameo appearance.

Often these shoots require multi-camera setups like our two camera PAL session with the BBC's Michael Buerk interviewing Jim Caviezel about Mel Gibson's controversial project 'The Passion of Christ'. While will Smith was here shooting 'I Robot', we crewed a three camera shoot for an ABC Primetime feature interview of Hollywood power couple Will and Jada-Pinket Smith
Masters of Horror
We shot EPK/dvd special features material for this Vancouver shot series helmed by 12 directors who are acknowledged as masters of the horror genre. John Landis, John Carpenter, Joe Dante, Toby Hooper and Italian Dario Argento were among the directors invited by creator/director/series producer Mick Garris. Starring roles featured Robert Englund, Robert Picardo, Faruza Balk and the work of Oscar winning Makeup EFX artist Howard Berger.
Music
Audiences love to be taken behind the scenes in the music business. We've interviewed Sarah McLachlan for Intimate Portraits, Nick Cannon for MTV Diaries, done a promo spot for Ice Cube and spoken with Snoop Dog on the set of his local music video shoot.
Irish supergroup U2 likes to start their world tours here in Vancouver. In 2015 we interviewed them for ARD prior to their iNNOCENCE and eXPERIENCE tour. We filmed them again in 2017 as they kicked off their Joshua Tree World Tour here.
BBC Breakfast TV asked us to cover the Spice girls on the first night of their World Wide Reunion Tour and we shot The Police kicking off their World Tour for ARD.We went to Seattle for Germany's Viva 2 Charlotte in America special to interview Eminem. Work for record companies includes promotional interviews for Nickleback's Long Road CD/tour, spending a week with Janet Jackson preparing the EPK to launch her All For You tour and Michael Buble giving a roller blading lesson to Australia 7 Network's Molly Meldrum.
Other music industry projects include:
Tour promotions for U2, Michael Buble, Nickleback and the Rolling Stones.
Behind the scenes coverage of studio recording sessions with Shakira
backstage interviews with Beyonce before her final appearance with Destinys Child
Sir Paul McCartney - concert video at The Millenium Dome, London and promo interviews for European tour.
Mick Jagger and Keith Richards - Stripped - promo interviews, Virgin Records
Celine Dion - Backstage visit and concert coverage for Star Academy, TF1,France
The Cure - studio recording and interviews, Yahoo web-cast, London
Bryan Adams/Sheryl Crow - Fashion Awards - Royal Albert Hall, London
Private performance concerts by Sarah McLaughlin for AT&T's Blue Room and to capture promo materials for the musical King Kong
A segment with Elvis Costello for Jimmy Kimmel Live
Behind the scenes footage of the making of Michael Buble's NBC Christmas special
Animation and Electronic Games
Vancouver is now a world center for computer animation. Mainframe Entertainment produced Reboot, the world's first completely computer generated children's series here. Slugterra and several other childrens animated series originate here. Recently we filmed the artists at Digital Domain meeting with engineers from Audi's Munich office to share in the design of the futuristic (Audi branded) virtual vehicle that Harrison Ford drives in Ender's Game.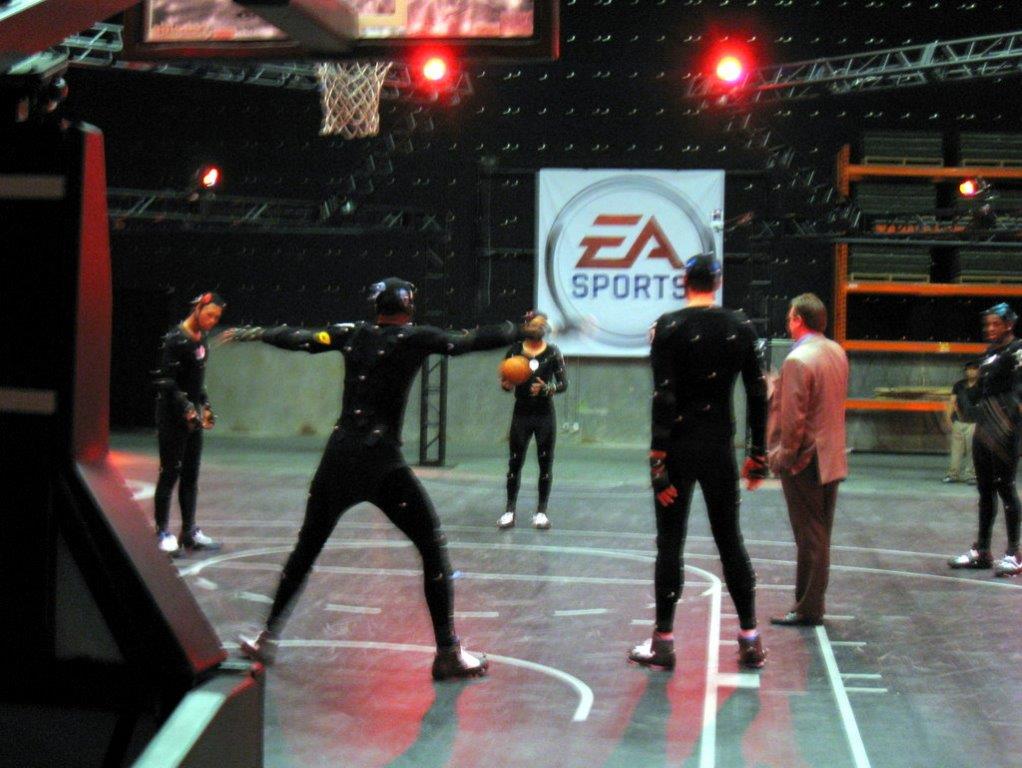 Electronic Arts, the world leader in video game production, has a huge 'state of the art' production facility here. At their Burnaby campus their 1300 employees produce Need for Speed, NBA Live, NHL Hockey Madden NFL football and FIFA Soccer. We've gone behind the scenes at the Vancouver motion capture studios to see "how they do it" for ESPN, German Television and many Gaming shows. We did a promo segment on 'FIFA 2013' soccer for Loma Media's Gametime. We crewed a 5 camera shoot covering ABC Good Morning America Jesse Palmer's visit to EA with members of the US Womens team for their mocap session to be among the first female players included in FIFA 2016.